Vehicle Dolly (Model A ) Operating Instructions
(Hits:)
Origin
Author
Add Time2015-05-07
Vehicle Dolly (Model A )
Operating Instructions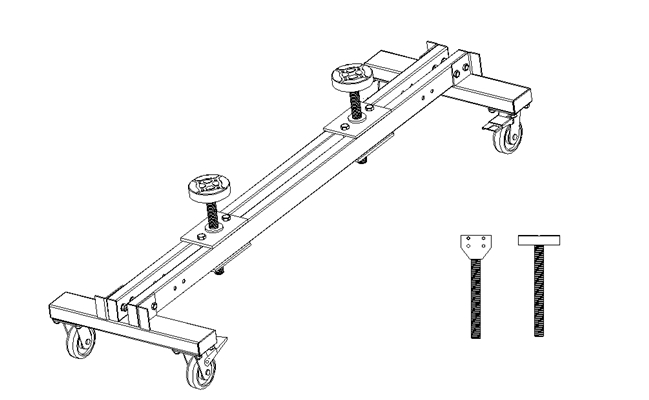 Product Description:
This product is suitable for vehicle repair workshop and used for moving the repaired vehicles to replace the front wheel of the car in the workshop. It is required to keep the ground smooth and strong when using this product.
Product Structure and Function:
This product is mainly composed of the support bar with 2pcs caster a, 2pcs main beam b and 2pcs vehicle support bolt assembly C, as shown in figure 1.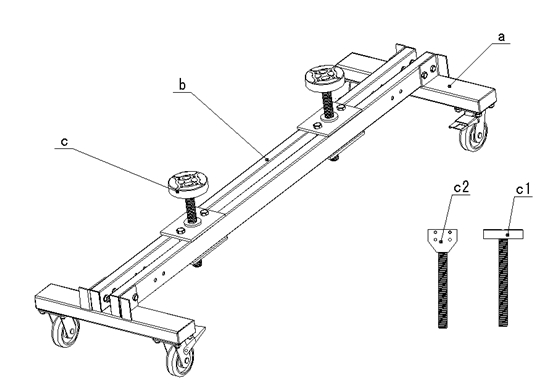 The vehicle support bolt assembly is equipped with 2 different supporting bolts. It is used to support the round beam of C1 and to support the car rim at the C2 (Figure 2). And the position for the supporting bolt assembly in the main beam could be adjusted according to the different track or car width and also could rotate the support bolt to adjust the support height.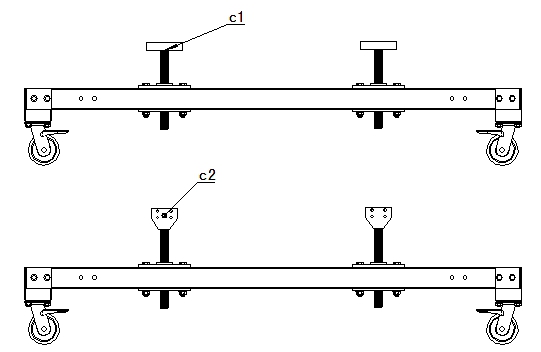 The 2pcs supports a could change the fixed on the main beam of the different holes (left and right stretching hole) to adjust the 4pcs swivel caster width, as shown in Figure 3
The maximum load capacity: 2 tons;
The maximum extensional dimension is 1.85m.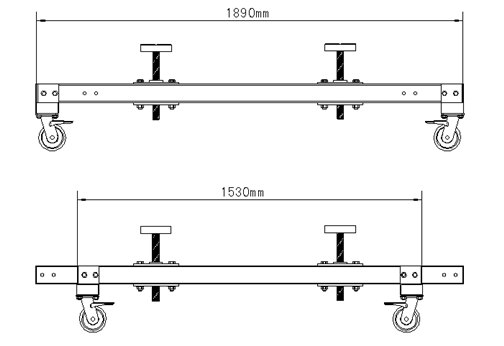 Method of use:
1. Using floor jack or auto lift to hold the car up about 50cm height.
2. Place the product to the Vehicle front lower position.
3. Using the support vehicles round beam bolt assembly (C1) to support the vehicle, or using a vehicle rim support bolt assembly (C2) grip car rim, tighten the screws. After moving the vehicle to the designated position in the workshop and then use the brake block of swivel caster on the support bar stop swivel caster in order to avoid the vehicle glide.
Diagram of Product Assembly: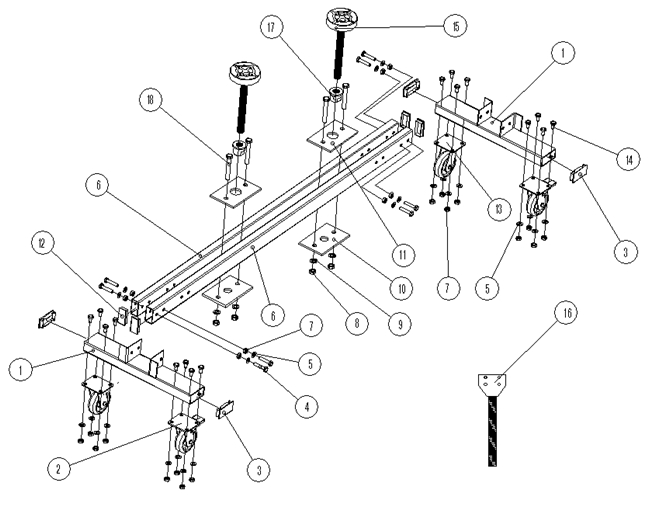 | | | | | | |
| --- | --- | --- | --- | --- | --- |
| Part | Description | Quantity | Part | Description | Quantity |
| 1 | Support Bar | 2 | 11 | The Upper Fixing Plate | 2 |
| 2 | Caster (with brake) | 2 | 12 | Small Seal Cover | 4 |
| 3 | Large Closure Cap | 4 | 13 | 5 Inch Caster | 2 |
| 4 | M10 * 60 Bolts | 8 | 14 | M10 * 25 Bolts | 16 |
| 5 | D10 Round Gasket | 24 | 15 | Vehicle Support Bolt Assembly | 2 |
| 6 | Main beam | 2 | 16 | Vehicle Rim Support Bolt Assembly | 2 |
| 7 | M10 Nut | 24 | 17 | T6 Nut | 2 |
| 8 | M16 Nut | 4 | 18 | M16 * 140 Bolts | 4 |
| 9 | D16 Round Gasket | 4 | | | |
| 10 | The Lower Fixed Plate | 2 | | | |